Now Hiring: LDOE Superintendent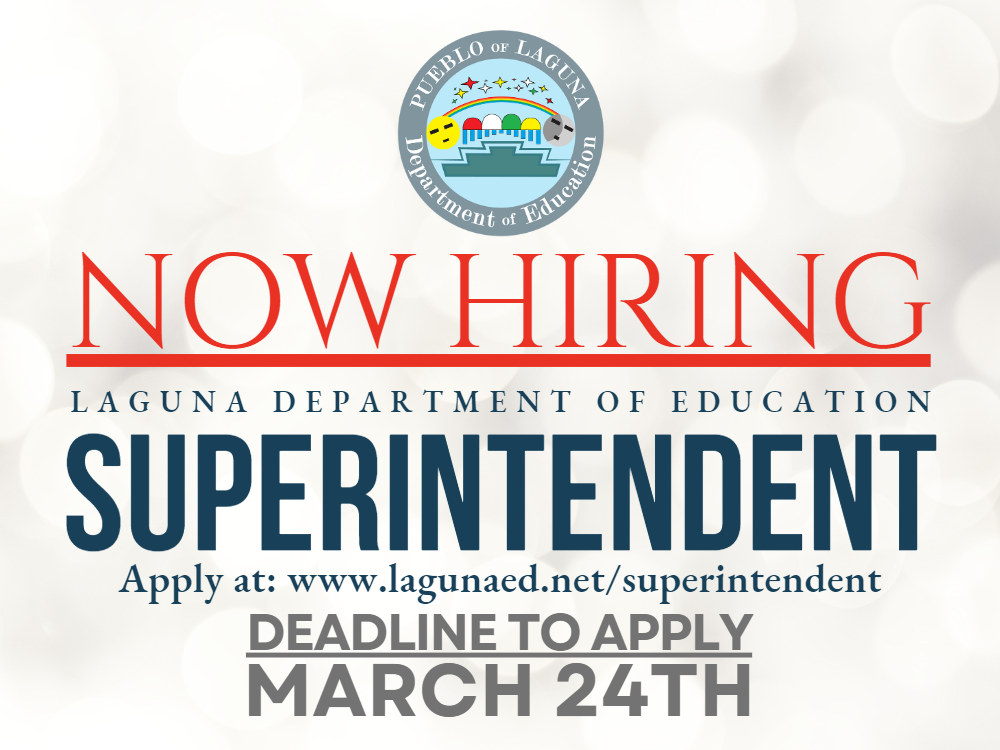 ---
JOB ANNOUNCEMENT
The Laguna Board of Education is seeking a highly qualified candidate to fill the position of Superintendent for the federally funded programs on tribal lands.

About the District
The Laguna Department of Education serves all the federally funded education programs within the Pueblo of Laguna: Division of Early Childhood Education (Head Start), K-8 Program (Laguna Elementary School and the Laguna Middle School), and the Partners for Success/Laguna-Acoma Connections adult education programs including the Pueblo of Laguna Direct Education Scholarship Program and the Office of Laguna Learning.
General Position Description
The Superintendent serves as the sole employee of the Laguna Department of Education (LDOE) Board of Education. The position is the executive officer of the LDOE and is responsible for the efficient administration and supervision of all schools within the district. The Superintendent must become familiar with the LDOE Board Strategic goals and act to implement the objectives of the goals.

Qualifications
Master's Degree required in Education or related field. Candidate must possess a current and valid New Mexico School Administrator's License. Must be able to obtain a New Mexico Licensure with two months, if not pertained. Experience in the education and leadership of a Native American (Pueblo) institution is preferred. Additional requirements: Applicant must be a U. S. citizen and successfully pass a background investigation in accordance with P. L. 101-630, pass a drug test in accordance with LDOE Board policy, and hold a valid NM Driver's License.

Additional Knowledge
Knowledge of P. L. 100-297 Tribally Controlled Schools Act, subsequent, educational sovereignty of tribal schools funded by the Bureau of Indian Education, the School Readiness Act (Head Start), the Child Care Development Fund and P. L. 102-477, the Indian Employment, Training and Related Services Demonstration Act. Knowledge of Pueblo culture and protocols. Working knowledge of Native American school leadership methodologies and strategies to improve the academic and socio-emotional well-being of Native American students.
Candidate will be responsible for implementing the LDOE Board of Education District Strategic Goals. Knowledge of and NM Administrative Competencies is required.

Salary and Contract
Salary is negotiable and contract period will not exceed two (2) years. Employment is at will.

Deadline date for submission is March 24, 2023, at 4:00 p.m.